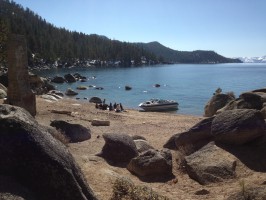 On a chilly Wednesday morning in February, we set out from the North Shore of Lake Tahoe in search for the perfect spot for our winter picnic.
Our first outing with our new friends, the lovely ladies from Tahoe Social, was also the first time any of the Gallery Keoki team members had experienced being on Lake Tahoe during the winter season. Warm smiles and cheery laughter fought back the cold wind as we made our way to Keoki's secret beach along the East Shore.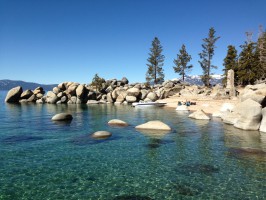 Our simple winter picnic quickly turned into a feast as homemade pulled pork sliders, red velvet cookies, and freshly cooked dumplings were spread out across the small blanket. With full bellies we sat back and took in the view.
As a new (by Tahoe standards) transplant from the Rocky Mountains of Colorado, I am still easily taken aback by the beauty of Lake Tahoe. The crystal clear water looks as if it belongs along the shoreline of Cozumel. Luckily for us, we have it in our own backyard, surrounded by the mountains we love.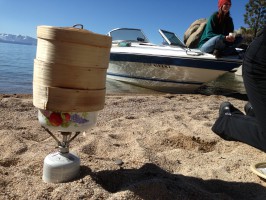 This diverse environment offers many opportunities that are not available anywhere else in the world. Who else has this view for their Wednesday office meeting? I will never get tired of this place.
-Sarah, Gallery Director